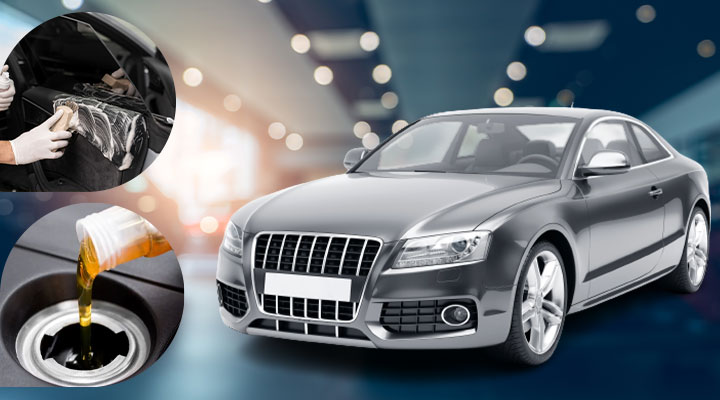 Gold Spa ( Interior ) : Premium Essential Steam Wash + Premium Interior Deep Cleaning SPA
This service has been designed to deliver complete cleanup of your car with respect to Exterior and Interior with special focus on car Interior. You will find a complete new and shiny look inside the car post Gold SPA.
Exterior body part Steam Wash, Glass cleaning  
Black parts and tyre dressing & alloy polishing.
Quick shine waxing
Thorough dry-cleaning of roof, seats , upholstery , Seat belt ,carpet & boot
Deep cleaning of Dashboard and Plastic parts Steering column
AC vent brushing and all glass cleaning
Interior deep vacuum cleaning
Polishing black parts and vinyls ,
Disinfection treatment
Odour eliminator treatment
Leather conditioning after dry cleaning
Interior Steam wash
Perfume dangler
Tissue box
Wiper fluid top up
Air pressure check and filling
Service suggested – Once in a 3 months
Stains, marks, dirt, dust and any foul smell causing particle from inside of the car are removed.
We make your car germ free,neat, clean and tidy.
Odour free treatment is done
You get best results as we use only branded 3M/ Turtle wax organic solutions.
Complete interior steam wash is done
Leather conditioning is done to enhance the durability of leather seat.
Brings back new look, shine and durability of fabic and plastic part
Enhance driving experience by bringing healthy environment inside the car.
Steam cleaning of exterior body helps to clean away acid rain, dirt and road salt that cause rust and corrosion to your car. It results into completely new look to car with a shining exterior.
Post Dry-Cleaning Service care
If seats are fabric, please keep your car window half shut for 3/4 hours to let the air in to dry the seat for the best result.
In case of Leather /leatherite, please keep your car window half shut for 1/2 hours to let the air in to dry the seat for the best result.
Opt for our Essential steam wash – Easylives Subscription plan to maintain your car.